OUR LOCATION
Forklift Rentals in Weston-super-Mare
Mitsubishi is a globally renowned brand known for creating the industry's highest quality and most innovative forklift trucks. Alto Handling is proud to be the leading supplier of this award-winning equipment for business throughout Weston-super-Mare.
The experts at Alto Handling have been working with Mitsubishi Forklift Trucks for over two decades, ensuring you have the best materials handling solution you need. Whether you need a long or short-term forklift rental in Weston-super-Mare, we can cater for all requirements.
Our bespoke range of products and services has been compiled to provide businesses with what they're looking for so they don't have to turn anywhere else. We also have a fleet of service vans to offer assistance after you've rented a forklift truck from us. You can rest easy knowing your project will have the best equipment around.
We pride ourselves on our responsive customer service, which is why you can always get in touch with us regarding a forklift rental in Weston-super-Mare via phone or email.
General Enquiry
Alto Handling has a vast selection of products and services for any business in Weston Super Mare and surrounding areas. If you have any questions about what we offer, such as repairs and payments, you can contact us via phone, email, or fill out our form below.
Award-winning Mitsubishi
Mitsubishi Forklift Trucks have won several prestigious awards throughout the years, making them a manufacturer respected by businesses worldwide. We have been dealing with this brand since we started up, ensuring you have the most reliable solution.
Talk to an expert today to go over our Weston Super Mare forklift rental options.
Variety of rentals
Our fleet of Mitsubishi products can be supplied to you after choosing from a wide range of options, such as short-term, long-term, and contract hire rentals.
In case you need a truck immediately, we always have a good number of fully serviced and LOLER-inspected forklifts to assist with your operation, even if it is for a specific date.
Due to our commitment to quality and excellent customer service, we are the number one forklift dealer in Weston Super Mare.
Why rent from Alto Handling?
Alto Handling is the Mitsubishi Forklift Truck experts who have been offering the most innovative products and services in Weston-super-Mare for two decades.
We focus on offering safe and eco-friendly solutions, allowing us to win a number of awards in the materials handling industry.
Experienced suppliers
Mitsubishi is the preferred manufacturer by materials handling companies across the globe due to its ergonomic design and high-quality build quality.
The experts at Alto Handling work to ensure you only receive the very best of Mitsubishi, which has made us the number one dealer for materials handling equipment.
The best of Mitsubishi
If you're looking for trustworthy Mitsubishi Forklift Trucks in Weston-super-Mare, then you should look no further. Our experts combine our years of experience and know-how to provide you with the most innovative solutions that support your needs.
20 years of experience
The team at Alto Handling has taken home the prestigious Mitsubishi Gold Award for Dealer excellence not once but twice. We ensure we always take the extra steps to give you excellent service and that you have a reliable rental for the entirety of your time with us.
Alongside our expertise and awards, we are members of UKMHA, so you know you will receive the best in the industry.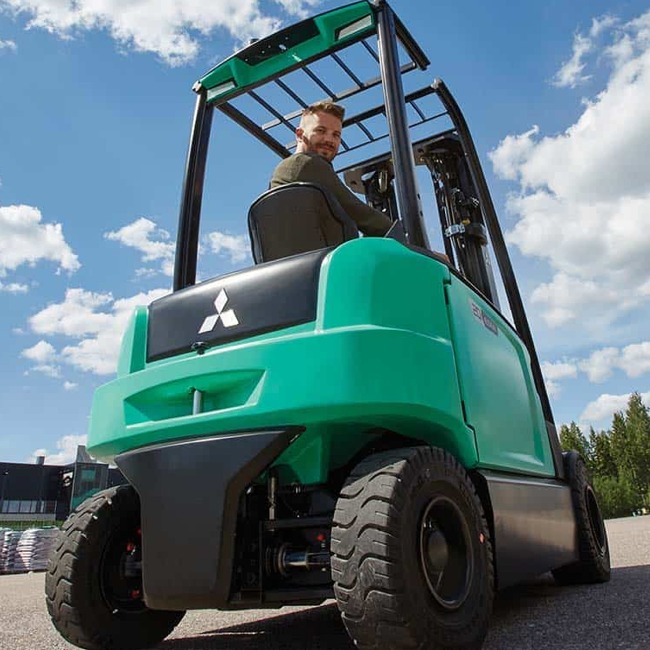 Find the right rental for you
Regardless of what product or service you're interested in with Alto Handling, we will always give you service that goes above and beyond. We will consider your budget and provide you with something that increases your productivity.
Contacting us is super easy, and we will respond as soon as possible. You can talk to us without any pressure to book a rental.
Fill out the below form with any questions you may have about our services, or you can call/email us, and we will discuss your options.
Frequently Asked Questions
Here you can find some helpful answers to frequently asked questions.

What makes Alto Handling number 1 for forklift hire in Weston-super-Mare?
The team at Alto Handling are double winners of the Mitsubishi Gold Award for Dealer Excellence and have worked hard to provide quality service, making us the number one dealer in Weston-super-Mare and the surrounding areas.
Why should I choose Mitsubishi for my material handling needs?
Mitsubishi is known by businesses worldwide in the materials handling industry due to its innovative forklift trucks and dedication to productivity and safety. You can ensure you are only getting the best with Mitsubishi, and its products will never let you down.
Every Mitsubishi item has been designed with considerations for your safety as well as the environment, and you can use one of its forklifts for as long as you need.
Where is Alto Handling based?
We work with businesses within the materials handling industry in Weston-super-mare and surrounding areas, providing the best equipment and repair services.
What are my next steps?
Once you have decided to rent with us, you can contact one of our experts to go over the best option for your needs. You can get in touch with us by filling out our enquiry form or talking to us directly over email or phone.
Am I able to receive some help?
Of course! We are always on hand to help. If you are struggling with finding the best solution for your business's material handling needs, our team is always available to chat. You can talk to us and get a free survey, where we will take into account your requirements and budget.
What services do you offer?
We have a vast selection of short-term, long-term and contract hire rentals for you to choose from. There is also the option to select a tailored package for your needs.
Alto Handling
East Building
Claybank Road
Portsmouth
Hampshire
PO3 5NH
Tel: 023 92695475