OUR LOCATION
Forklift Rentals in Taunton
Mitsubishi Forklift Trucks are award-winning machines that are used by businesses across the globe to help with materials handling requirements. Alto Handling are a top supplier of this equipment for forklift rentals in Taunton and surrounding areas.
We have been working for many years to offer the best solution for our clients, and we have found it. Our forklift trucks are available for contract hire or purchase, and we have a wide range of services to ensure you have all you need.
Whether you need a forklift truck for a one-off job or a whole fleet for years to come, our expert team will be there to provide you with it all. And if you ever need maintenance or repairs, our fleet or service vans will come out immediately to help you so you can get back to doing the work you love.
Our team is always here to help, whether you need a rental or have a question. Get in touch with us today.
General Enquiry
If you need any information regarding Alto Handling's services in the Taunton area, please do not hesitate to contact us. Our team of experts is always available to assist you, and you can contact us through email, phone, or by filling out our form.
World-renowned Mitsubishi
Mitsubishi is a globally recognised brand supplying top-quality and innovative forklift trucks, and it has received several awards over the years. As experienced Mitsubishi dealers, the Alto Handling team has extensive brand knowledge. You won't find a better quality forklift than Mitsubishi.
Contact us to discover the ideal solution for your needs.
Hire for your needs
At Alto Handling, we provide a diverse selection of forklifts available for rent, contract hire, or purchase. Our flexible options allow you to rent our forklifts for a day, a week or a fixed term contract up to 7 years.
In case of an emergency, our fleet of service vans are ready to assist you immediately or at a scheduled time. We prioritise a very high first fix rate with expertise and precision, which is why we are the top Mitsubishi dealer in Taunton.
Trust us to meet all your forklift needs with our exceptional service and attention to detail.
Experience the benefits of working with Alto Handling
Combining two decades of experience with the quality of Mitsubishi Forklift Trucks, Alto Handling has become the number one forklift dealer in Taunton.
We offer exceptional equipment and service in and surrounding the area, which has allowed us to win several prestigious awards.
Reliable hires
Companies in and around Taunton have been coming to Alto Handling for forklift hires due to our Mitsubishi equipment and responsive customer service.
As a client of Alto Handling, you get the very best for your materials handling projects, and we are always on hand to help.
Mitsubishi innovation
Alto Handling only wants to offer the best forklift rentals in Taunton for our clients, which is why we have become recognised Mitsubishi dealers across the south coast. You get to experience the latest technology and innovation of the brand and complete your projects to perfection.
Dealer excellence
The Mitsubishi Gold Award for Dealer Excellence is among the most prestigious awards, and we have been fortunate enough to take it home twice. Our high levels of attentiveness and quality equipment put us far ahead of our competition.
We've also registered ourselves as members of UKMHA, so you know you will receive the best service.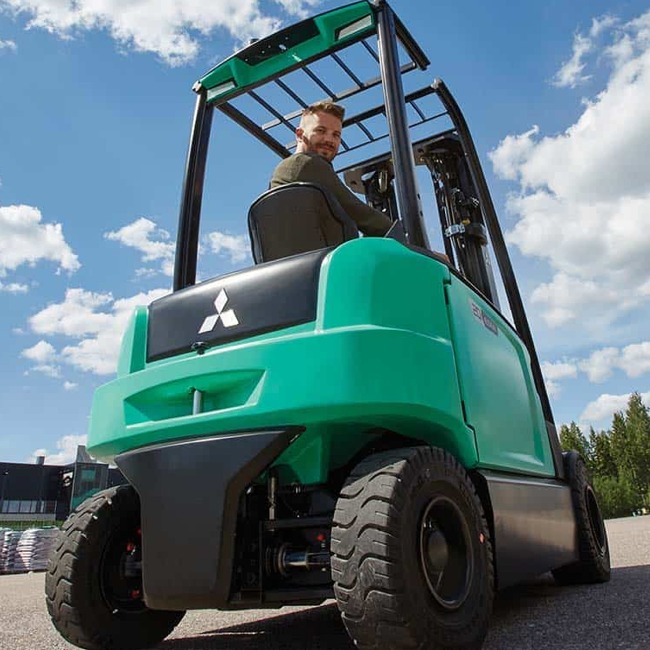 Discuss your options with Alto Handling
At Alto Handling, we always offer the best deals available for forklift rentals in Taunton. That's why if you need a forklift truck or any services for your equipment, one of our experts will always be on hand to answer any of your questions and find the best solution.
We are always at your disposal to answer any questions, and there is never any pressure to make a booking.
Start your journey with us today by making a phone call, emailing us, or filling out the form below.
Frequently Asked Questions
Here you can find some helpful answers to frequently asked questions.

Will I benefit from working with Alto Handling?
Yes! Alto Handling, the leading Mitsubishi Forklift Truck dealer in Bournemouth and the entire south coast, has been honoured twice with the prestigious Mitsubishi Gold Award for Dealer Excellence. Our extensive fleet of trucks and equipment, coupled with our unparalleled level of expertise, sets us apart in the industry.
What sets Mitsubishi apart from the rest?
Mitsubishi is a widely recognised brand, and for a good reason. Their forklift trucks are built using only the finest resources and materials, incorporating cutting-edge technology to deliver some of the most innovative products in the industry. Regarding reliability and precision, you can trust Mitsubishi's products to deliver a great performance.
Where do you work?
Alto Handling provides top-notch materials handling equipment and repair services to businesses and customers in and around Taunton. We pride ourselves on offering the highest quality products and services to meet the needs of our customers.
How should I get started?
To rent or purchase a new or refurbished forklift truck from Alto Handling, simply get in touch with us by filling out our enquiry form or contacting us via email or phone. Our team will be happy to discuss your options and help you make the right choice.
Can I request some assistance?
If you're unsure about which materials handling option is best for you, Alto Handling has a team of experts ready to assist you. Contact us to schedule a free survey, during which we will discuss your requirements and put together a customised package that meets your needs and budget.
What can you offer me?
Alto Handling provides a diverse range of long-term rentals and contract hires, along with the flexibility to tailor a customised package that meets your specific needs.
Alto Handling
East Building
Claybank Road
Portsmouth
Hampshire
PO3 5NH
Tel: 023 92695475