OUR LOCATION
Forklift Rentals in Exeter
Exeter deserves excellence, and this comes in the form of Mitsubishi Forklift Trucks. Using the latest technology and extreme levels of innovation, businesses can now complete their materials handling projects to the highest standard and more efficiently than ever.
The experts at Alto Handling are here to provide the South West with all the forklift rentals and repair services it needs. So, if you need a new piece of machinery or equipment to get your job done, we are ready to help.
Our team works with you to find the perfect forklift and services you need to ensure you're performing to the best of your ability. When you rent or buy from us, we never stop supporting you. Our fleet of service vans is always on hand to assist in an emergency, so your operation keeps working.
Getting in touch has never been easier. Call or email us now if you want to discuss your needs.
General Enquiry
If you have any questions about Alto Handling's range of services in the Exeter area, then don't hesitate to get in touch. Our experts are always here to help, so you can contact us about anything via email, phone, or by filling out our form.
Nothing better than Mitsubishi
When it comes to forklift trucks, you can't get better quality than Mitsubishi. This international brand is known worldwide for its high quality, innovation and legendary reliability, earning them multiple awards. The team at Alto Handling are experienced dealers of Mitsubishi Forklift Trucks and have all the knowledge you need about the brand.
Contact us so you can find the best solution for you.
Hire the forklift you want
Alto Handling offers a wide range of forklifts for rent, contract hire, or purchase. Whether you need them for a day, a year or a long term contract up to 7 years, we are able to help.
In the event that there is an emergency and you need a repair, our fully-equiped fleet of service vans will be able to come and help you right away or at a scheduled time.
We pride ourselves on our know-how and attention to detail, which is why we are the number one Mitsubishi dealer in Exeter.
Reasons to rent with Alto Handling
Alto Handling uses our years of experience combined with the excellence of the Mitsubishi brand to provide clients with the highest-quality and safest solutions.
Our dedication to customer service and innovative equipment has helped us win a selection of awards that we are proud of.
Excellent brand
You can't get much better when it comes to Mitsubishi. This global manufacturer has made waves across the world for creating forklifts that offer the highest levels of productivity.
By hiring a forklift from Alto Handling, you get to experience the excellence that Mitsubishi has to offer and enhance your materials handling projects.
Reliable dealers
Alto Handling has been supplying materials handling equipment rental machines in Exeter for nearly two decades. We use our vast knowledge to offer the ideal solution for you and your business.
Experience you need
The team at Alto Handling has won the Mitsubishi Gold Award for Dealer Excellence awards not once but twice. We strive to offer the best products and service in the Exeter area, and our customers are never let down.
Not only do we have multiple awards, but we also have a UKMHA licence which proves you get the very best with us.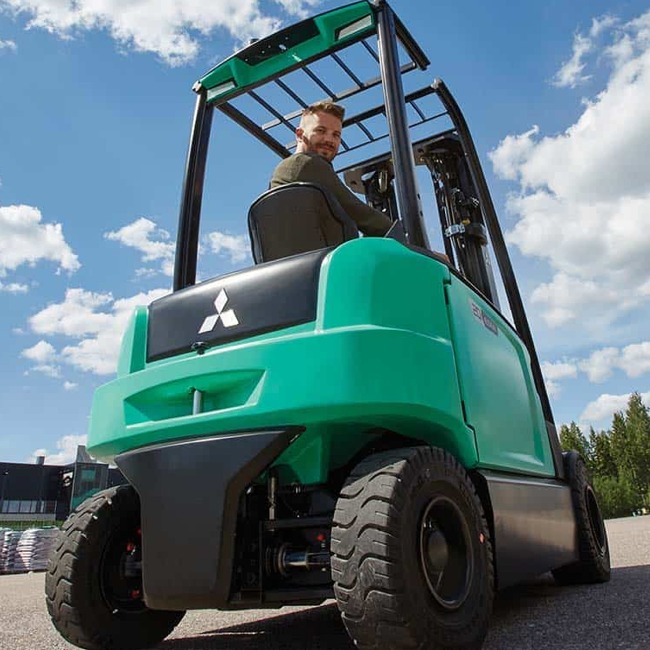 Get started with Alto Handling today
Regardless of the service you wish to sign up for with Alto Handling, we are always here to help you get what you want. That's why our experts are always on hand to help discuss your options and find your ideal forklift solution.
Our team is available anytime to offer help and answer any queries. There are no obligations or pressure; we just want to ensure you get what you're looking for.
Get in touch with us today by either filling out the form below and waiting for a response or calling/emailing us for immediate help.
Frequently Asked Questions
Here you can find some helpful answers to frequently asked questions.

Will I benefit from working with Alto Handling?
Yes! Alto Handling, the leading Mitsubishi Forklift Truck dealer in Bournemouth and the entire south coast, has been honoured twice with the prestigious Mitsubishi Gold Award for Dealer Excellence. Our extensive fleet of trucks and equipment, coupled with our unparalleled level of expertise, sets us apart in the industry.
What sets Mitsubishi apart from the rest?
Mitsubishi is a widely recognised brand, and for a good reason. Their forklift trucks are built using only the finest resources and materials, incorporating cutting-edge technology to deliver some of the most innovative products in the industry. Regarding reliability and precision, you can trust Mitsubishi's products to deliver a great performance.
Mitsubishi build each forklift with absolute care while also protecting the environment, so you can rest easy while using your equipment.
Where are you located?
We are based in Exeter so we can offer businesses in and surrounding the area the full scope of our products and services.
What are my next steps?
Once you've decided you want a forklift with Alto Handling, then all you need to do is get in touch so we can get started. You can do this by calling our team by phone, emailing us, or filling out our form with your enquiries.
Can I get some help with my booking?
Of course. Our team is always here to offer assistance and find the ideal solution that meets your materials handling needs. You can get in touch with us, and we will ask you questions to find out what package meets your requirements and budget.
What options do you offer?
You can rent forklifts long or short-term with Alto Handling. You also have the opportunity of purchasing new and refurbished forklifts. We also have a number of finance options to help with your purchase.
Alto Handling
East Building
Claybank Road
Portsmouth
Hampshire
PO3 5NH
Tel: 023 92695475